Welcome to the Patrick Henry College Challenge 2023!
March 2-4, 2023
This website is still under construction for the March 2-4, 2023 Tournament. Please check back at a later date.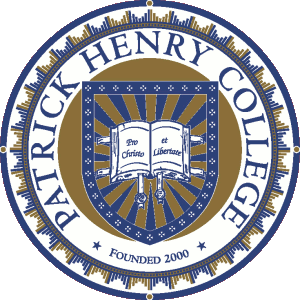 Sponsored by:
Patrick Henry College
The tournament will be held on the beautiful Patrick Henry College campus at
10 Patrick Henry Circle
Purcellville, Virginia 20132

Patrick Henry College is proud to present nearly $5,000 worth of PHC Teen Leadership Camp awards to Stoa students. These are each a $705 value! PHC Teen Leadership Camps offers 11 different camp opportunities spread across 4 weeks (June 18-July 15). If you attend the PHC Stoa tournament in March, you will be entered for a chance to win 1 of 7 different full-tuition scholarships to PHC Teen Leadership Camps in Summer 2023. PHC camps (ages 14-18) are designed with a Christian worldview where teens grow deep in their faith, friendships, and academic pursuits!
Visit https://www.phc.edu/teen-camps-home for more information.
Here are the 2023 camp offerings:
Strategic Intelligence: June 18-24
SI: Advanced (for returning SI campers only): June 18-24
Leadership & Worldview: June 25-July 1
Constitutional Law: June 25-July 1
Literature & History: June 25-July 1
Moot Court: July 2-8
Entrepreneurship & Economics: July 2-8
Speech: July 2-8
Debate: July 9-15
Multi-Media Journalism: July 9-15
Drama & Theater: July 9-15
Registration opens Feb 1, 2023
Opens Wednesday, 2/1/2022 at 10:00am ET
Closes Midnight, Wednesday, 2/15/2023 for all events including TP, LD, Parli, and all STOA Speech events
Speech Events (all 12 Stoa events):
(Rules can be found at http://Stoausa.org)
Limited Prep:
Mars Hill (Current Movies, Classic Music Lyrics, Classic Books, the Arts)
Extemp (International, Domestic, and Economic)
Apologetics (Categories 1,2,3,4,5,6)
Impromptu
Platforms:
Original Oratory
Persuasive
Expository
Interpretations:
Dramatic
Open
Duo
Humorous
Wildcards:
Interp in a Box
Students may register for a max of 3 events per pattern and 5 total per tournament.
Each speech category must have at least 4 competitors to be offered. Patterns will be adjusted after registration closes. Final Round contingent upon event registration numbers.
Fees: 
Debate fees:
$ per debater (includes cafeteria lunch and dinner)
Speech fees:
$ for first speech event includes cafeteria lunch and dinner).
$5 for each additional event.
Food--IMPORTANT--PLEASE READ
No outside food is permitted inside the buildings of the PHC campus. Outside food may be eaten at designated spots outdoors on campus or in your car.
Additional cafeteria lunches and dinners for non-competitors may be pre-purchased at the time of registration. The cost is $9/meal
Cafeteria lunches and dinners may be purchased on the days of the tournament, but the cost will be substantially higher than pre-purchase prices. The cost will be $12/meal
The PHC Coffee Shop will NOT be open.
Please see Food tab at left for details.
Contact:
For questions, please contact:
Tournament Director: Sara Davis, sdavis@berryvillept.com
Script Submission
IMPORTANT: There will be NO on-site script submission for the PHC Challenge Speech Tournament.
DEADLINE for script submission will be midnight Friday, Feb 25, 2022.
Follow the link on the left for more details.
Thursday TP/LD Debate Check-In:
Team Policy Debate
6:50 - 7:15 Barbara Hodel Center Lobby
7:15 - 7:30 AM Prayer & Announcements, Hodel Center Gym
Lincoln Douglas Debate
8:20-8:45 Barbara Hodel Center Lobby
8:45-9:00 Prayer & Announcements, Hodel Center Gym
Friday Parli Debate Check-In:
7:00 - 7:20 AM Barbara Hodel Center Lobby
7:20 - 7:30 AM Prayer & Announcements, Hodel Center Gym
Saturday Speech Check-In:
7:00 - 7:30 AM Barbara Hodel Center Lobby
7:30 - 7:50 AM Prayer & Announcements, Hodel Center Gym
Judge Requirement: 
Each competitor MUST provide a judge available to judge two rounds for each event the competitor has entered. There is a six-round family cap. Please encourage community and alumni judges to sign up through the judge registration link. Because of the way that judges are assigned to rounds, YOU MUST BE THERE FOR THE TIMES FOR WHICH YOU HAVE REGISTERED.
In addition, local competitors (those living within 30 miles of the tournament) are asked to recruit at least (4) rounds of community or alumni judging.
Community Judges:
Judge Orientation will be virtual this year. Please see judge tab.
Patrick Henry College Campus Tours
Saturday, March 5 9:45-10:30a.m. & 3:00-3:45p.m.
*COVID-19 Details/Requirements for Building Usage *
1. Each participant must self-monitor. Entrance is restricted to those who have had no flu-like symptoms in the previous two weeks or meet the CDC guidelines for resuming close contact with others: 3 days with no fever (100.4°F or higher) and respiratory symptoms have improved and it has been 10 days since symptoms first appeared.
2. Masks or face shields are not required to enter the facility at this time. Usage is at the discretion of the Client. The College will give notice in advance if there is a change to this policy. 3. Spectators/Audience members are asked to keep physical distancing protocols while sitting on the bleachers or audience seating. Placement in the seating areas should be according to family units while keeping a distance of 10 feet from other family units. Some areas may be blocked to help encourage distancing.
4. Sanitization will be required between each event. Sanitization will be handled via an event staff person and a member of the client's organization.
5. All participants are asked to bring their own water bottles for hydration. Campus water fountains may be closed.
6. Any meals consumed on site need to restricted to the designated dining location(s).